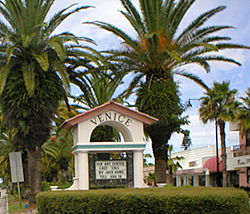 The Bay and inland waters are calm and the gulf has a light chop. The quality of life in Venice, Florida is exceptional. Our Main Street and access to the finest Beaches and golf courses should make Venice an area for you to explore before you decide to settle in Florida.
Brad Jordan is an experienced Realtor and is ready to answer questions and show you what is exceptional about the real estate in this area. Brad is an New Englander and values the life style and community spirit that makes Venice, Florida the undiscovered paradise it is. Email or call Brad to receive information about the community and real estate options in the area.
Cathy Beckwith, a former Ohioian, brings mid-western values, helping folks find their place in the sun. Email or call Cathy to learn about the Gulf Coast lifestyle.
Area Information
Venice is located on Gulf of Mexico on the west coast of Florida about 75 miles south of Tampa and 20 miles south of Sarasota. The Venice area is actually made up of five communities located in Sarasota County; Venice, South Venice, Nokomis, Laurel and Osprey. The population of Venice is about 17,000, while the greater Venice area population is about 84,000.
In 1925, the Brotherhood of Locomotive Engineers engaged famous city planner John Nolen and landscape architect Prentiss French to design a town reminiscent of its Italian namesake. Venice was incorporated as a town at that time.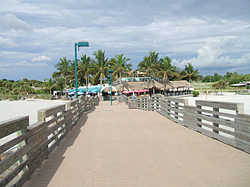 The average annual temperature is 75 degrees, and the waters in the Gulf will rise to a high of 89 degrees in the month of August. The winter low in Gulf waters averages about 70 degrees. Most of the year's average rainfall of 51 inches comes in the summer months.
The Venice area has more than 14 miles of beaches, from Casey Key to Manasota Key. Venice has long been known as "Sharks Tooth Capital of the World," so it goes without saying there many opportunities to find many different sharks teeth along the shoreline.
Golfing is great in Venice, Florida! There are a large variety of courses, public and semi-private as well as wonderful golfing communities.
Fishing enthusiasts can find plenty of enjoyment in Venice. Residents can fish from the beach, piers, or local charter boats. The Gulf of Mexico, Sarasota Bay, Little Sarasota Bay, and the Inter-coastal Waterway offer excellent marine fishing. A wealth of lakes and tributaries and the Myakka River provide endless possibilities for fresh water fishing. Venice Municipal Fishing Pier, located adjacent to Sharky's Restaurant on Harbor Drive, has a bait shop, terrific views of the sunset and is a favorite spot for fishing.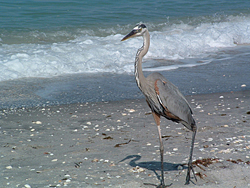 There are also many beautiful parks in the Venice area, many of which include recreational activities such as tennis, baseball, soccer, nature trails and boat launch ramps. Humphris Park, also known as the South Jetty, is located at the northern end of the city. The jetty provides a great fishing area and boat access between the Gulf of Mexico and the Inter-coastal Waterway.
Relocating?
Are you thinking of relocating? You owe it to yourself to discover the fabulous Gulf Coast of Southwest Florida. Business, culture and natural beauty all await newcomers to this part of the Gulf Coast. Miles of beautiful beaches, peaceful waterways, scenic parks, ideal climate, breath-taking sunsets, and incomparable art & entertainment venues…it's all here. If you enjoy superb dining, the arts, golf, swimming, boating, sailing, fishing, sunbathing, or snorkeling, there's something for everyone in this "Paradise Found!"